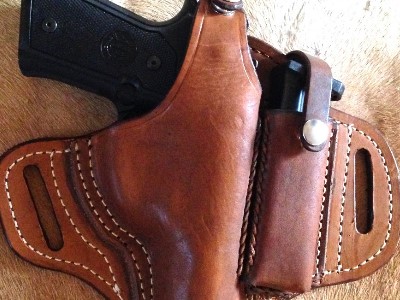 Gunther Freudlsperger makes leather holsters, belts and sheaths from only the highest quality domestic hides and they are completely handcrafted and finished in Texas. He does not make any "one size fits all" leather holsters. Each holster is handmade to fit a specific handgun of knife! He makes leather holsters for Colt, Glock, Kimber, Sig Sauer, Ruger, Smith & Wesson, Springfield XDs and many, many more. All of the fitting is done by hand. The materials used are of the best quality, whether it is the specially tanned holster leather or any of the exotics including shark, ostrich, and crocodile. This difference can be observed in the finished product. The holsters and their design are custom made following your wishes and ideas. You will get the best and unique holsters concerning comfort, concealment, durability, functionality and design.
Only holsters and knife sheds without the weapon in the picture - Price as seen (picture): $ 110.-,
All specifications and configurations are personally discussed with the customer!