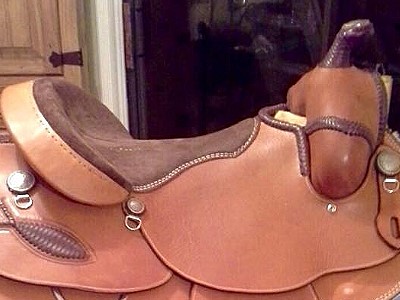 When choosing a new saddle it's easy to become overwhelmed by the choices available. The more time you spend in a saddle, the more critical good fit becomes. Minor imperfections in fit that may have little or no consequence during an hour of arena riding can cause significant soreness for both you and your horse after a day on the trail over varying terrain. As Gunther Freudlsperger is a professional horseman he knows what you and your horse need. He will create the right and perfect saddle for you and your horse.
He only uses saddle trees made of premium quality trees, carefully made and put together. Sewn with the best hides with rawhide lace. Stitches are close together, hand laced around the cantle and swell, then hand nailed in the cantle and gullet. The rawhide saddle trees are hand-sewn and dried on specially designed drying racks. The dry air in the high desert Southwest allow the saddle trees to dry slowly and evenly. Saddle trees that are artificially dried have a greater tendency to warp and twist. The swells are laminated with 1-1/2" plywood between two layers of pine. The roping horns are made of the finest ductile iron, which insures their durability for roping and other stresses that are put upon them. The bars are made of pine that grows in the high elevation of Colorado, which has a tighter grain and more tensile strength.
He only works with premium quality leather that is still stuffed the old fashioned way for long lasting dependability and heirloom quality. It is drum dyed and stuffed for maximum strength and longevity. The leather is known for its durability.
Specifications:
Tree: Bullhide covered wood trees with Arizona bars
Cantle: 3,5"
Seat: 16" grain out with Memory Foam Seat Padding
Gullet: Medium Plus width x 8,5" high
Rigging: 3/4 position
Finish: brown
All saddle specifications and configurations are personally discussed with the customer - basic price for every saddle: $2.600.-